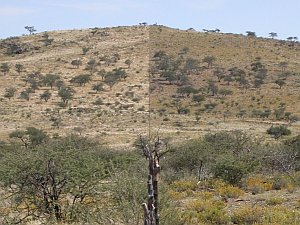 Description: Namibia: Grazing can have a strong impact on the composition of plant cover. The photo shows the farm Duruchaus in central Namibia (right hand side of the fence) where intensive grazing by a high number of sheep and goats caused differences in the species composition of the vegetation compared to the neighbouring farm (cattle farming): there is a lower cover by perennial grasses and palatable dwarf shrubs.

File size (maximum resolution): 571 kByte

Copyright: When using this photograph, please always give the following photo credit:

© BIOTA AFRICA/Dirk Wesuls

There are two methods to download:
Show photograph: left mouse button on link
Save photograph: right mouse button on link - Save Link (target) As...